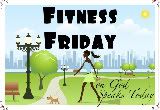 Today was weigh in day for me! My weight on Monday was 190 and today.................183!!!! I can't believe I lost 7 pounds. I was aiming for 2 pounds a week but I did better than I expected. I tracked my calorie intack on www.livestrong.com. and I was able to work out 3 days (Wii Fit and My Fitness Coach) this week. I was aiming for the whole week but I got a really bad cold and didn't want to push it!

So I met most of my goals. Healthy eating, a loss in weight (yeah!) and working out at least 15 minutes a day (was able to work out 3 days this week). I feel focused and I'm very happy that I was able to see a loss by achieving all the mini-goals I set for myself this week.

For next week I want to work out 5 days. I hope to see another 2 pound loss and continue to food journal. I love that I can set a calorie goal on livestrong.com and enter the food I eat to see how much more calories I can consume for the day. What is even better is that they have an app for my itouch, so I can track my food even when I am away from the computer!