I will admit that I am obsessed with the Olympics! I have been faithfully watching since Opening day in Beijing. My obsession with the Olympics probably began in 1984 with the Summer games in LA.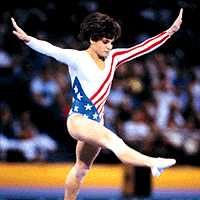 I was a huge fan of Mary Lou Retton and the rest of the women's gymnastic team. I also loved watching diving (remember Greg Louganis hitting his head on the diving board in 1988!) , track and field (FloJo!!!)... who am I kidding, I probably watched just about all the sports like I'm doing now (including fencing and table tennis!) But I was really into women's gymnastics back then and still am. My room was decorated with posters of Mary Lou and the rest of the girls. I had books and videos and all other kinds of stuff related to the sport. I wanted to be Mary Lou...I wanted to be an Olympic Gymnast!

I've been totally immersed in the Beijing games, following Phelps quest for his 8 gold medals and watching Dara Torres swim and of course women's gymnastics (go Nastia Lukin!) But something Dara Torres said really struck me. She is in her 40's and the oldest female swimmer in the games. She got 2 silver medals I believe. Anyway they asked her what she would tell her 2yr old daughter about her experience in Beijing and she said she would tell her not to put an age limit on her dreams! Wow! That really got to me because I keep having doubts about pursuing a writing career. I get those thoughts in my head that I can't do it because of my age and that I wasted too much time. It was really inspiring to hear her say that and a big kick in the pants for me! There was also this 33 yr old gymnast from Germany who got a silver medal, now I'm not saying I'm going to pursue that kind of Olympic dream (I don't think I can do a 2 1/2 sommersault or perform on the balance beam!) But my "Olympic" dream of being a writer will not be put to rest! Whatever your dream is remember not to put an age limit on it!